Gift Cards
Support the Blue Mouse!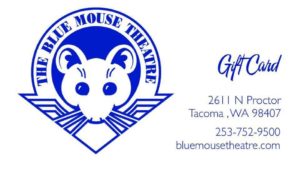 The adventure, emotions, and joy that only Cinema on the big screen creates are the experience, a special gift that you can give to family and friends with a Blue Mouse Theatre Gift Card.
(Gift cards are available starting at $10 and any other amount in $5.00 increments)
Click here to purchase a gift card for tickets and/or concessions at The Blue Mouse Theatre.